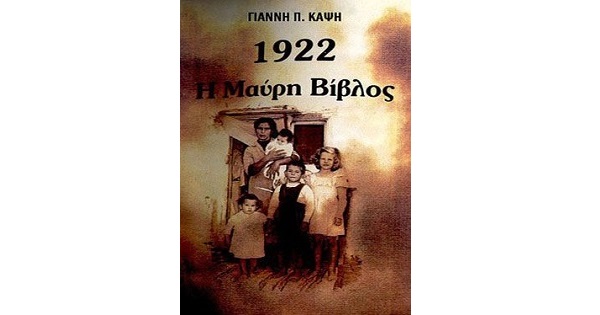 1922 EI MAVRI VIVLOS
(1922 The Black Bible)
Yianni Kapsi
Livani Publishers 1992.
Greek, 318 pages.

A collection of testimonies from genocide survivors and archival material from foreign diplomatic agencies.
My name is Sophia Nicolaou. I am from Ivrindi of Asia Minor. I along with my husband and 8 year old son Manolaki, escaped to the mill at Gioun-Yiorkes. Suddenly Turkish villagers appeared. They encircled the mill shouting out wildly. Then they broke the door open and attacked us. In front of my now deceased husband and son's eyes they raped me many times. Then they slaughtered my son and with their knives they cut my husband up into pieces. They removed his skin and made me eat his flesh. They shouted at me telling me that if I didn't eat my husband's flesh they would slaughter me as well. At that time gun shots could be heard. It was the Turks shooting to signal to their own people that the Hellenic army was approaching. It was the unit of Baluk-Keser. When the Turks heard it they ran. And that's how I was spared. The soldiers found out what I'd been through and took me with them. (from page 9 of the book).