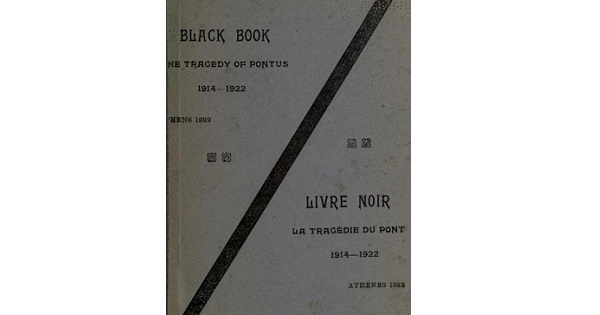 BLACK BOOK: THE TRAGEDY OF PONTUS 1914-1922
The Central Council of Pontus.
Athens 1922.
29 pages.
Read and Download

The following document, written in both French and English was released by the Central Council of Pontus in 1922 and contains statistics on the death toll of Greeks in the towns and villages of the Pontus region of Asia Minor. The document also contains statistics on the number of churches and schools in the affected regions. According to the Central Council of Pontus by the end of 1921, the death toll of Greeks in the Pontus region was 303,238. In the document, the Central Council states:
Since the year 1914 the Ottoman Government, on the lines of a plan organised and premeditated has caused more than 1,500,000 Greeks and Armenians of Asia Minor to be massacred by its local agents. The infortunate Greek populations of Pontus have been decimated by murder and privation, have witnessed their churches profaned, their daughters violated, their wives dishonoured, babies snatched from the arms of their mothers and hurled against the walls, old men and children burned within the churches and priests massacred under the portals.
Statistics on Pontus, Central Council of Pontus, 1922
| | | | | |
| --- | --- | --- | --- | --- |
| District | Communities | Churches | Schools | Population Exterminated |
| Amasia (Αμάσεια) | 400 | 603 | 518 | 134,078 |
| Neocaesarea (Νεοκαισάρεια) | 95 | 135 | 106 | 27,216 |
| Trebizond (Τραπεζούντα) | 70 | 127 | 84 | 38,434 |
| Chaldia (Χαλδία) | 145 | 182 | 152 | 64,582 |
| Rodopolis (Ροδόπολη) | 41 | 53 | 45 | 17,479 |
| Colonia (Κολωνία) | 64 | 74 | 55 | 21,448 |
| Total | 815 | 1134 | 960 | 303,238 |
Further Reading:
6 Nov 1921: Reports Massacres of Greeks in Pontus, New York Times
Feridunoğlu Osman Ağa (1883-1923)
Pontus
The Greek Genocide in American Naval War Diaries
The Samsun Deportations