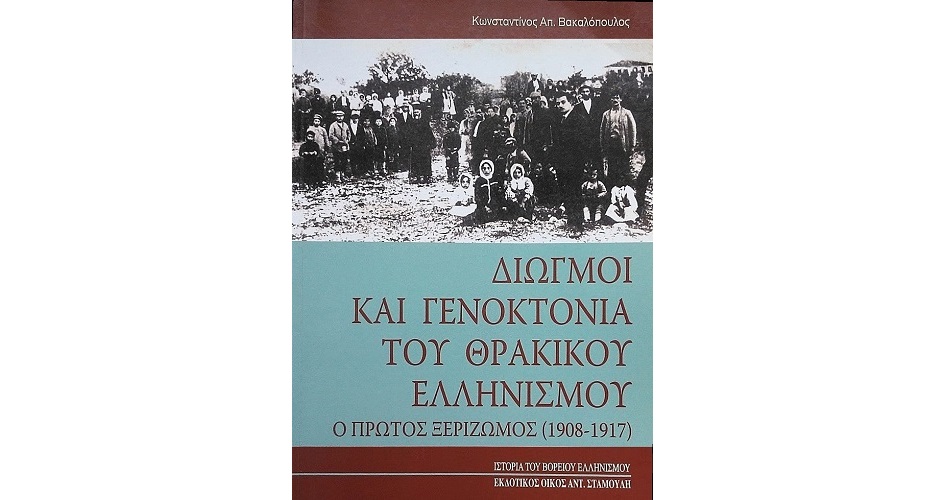 Διωγμοί και Γενοκτονία του Θρακικού Ελληνισμού: Ο Πρώτος Ξεριζωμός (1908-1917).
[Persecution and Genocide of Hellenism in Thrace: The First Uprooting (1908-1917)].

Konstantinos Vakalopoulos.
Ant. Stamoulis Publishers, 2007.
615 pages.
In Greek.

In this voluminous work, Vakalopouloos researches the first phase of the Greek Genocide which began in Eastern Thrace. Aside from massacres, boycotts, forced labour and other repressive measures, Vakalopoulos states that approximately 100,000 Greeks of Eastern Thrace were deported to the interior of Asia Minor, and only half returned.

Chapters
1. Hellenism in Eastern Thrace on the eve of the neo-Turk movement.
2. The neo-Turk movement in Eastern Thrace (1908-1909).
3. Regrouping and ethnic organization of Hellenism in Eastern Thrace (1905-1909).
4. The main phase of the early neo-Turk period in Eastern Thrace (1910-1912).
5. Hellenism of Eastern Thrace at the crossroads of developments in the Balkans (1912-1913).
6. The first uprooting of Hellenism in Eastern Thrace (1913-1914).
7. Black Easter of 1914 and the main phase of the persecution of the Greeks of Eastern Thrace..
8. The progressive martyrdom of Hellenism in Eastern Thrace. From uprooting to genocide (1914-1917).