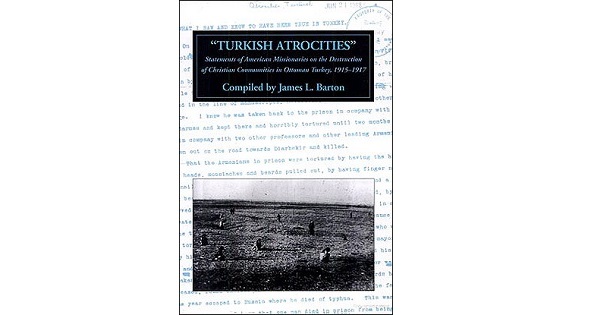 TURKISH ATROCITIES.
STATEMENTS OF AMERICAN MISSIONARIES ON THE DESTRUCTION OF
CHRISTIAN COMMUNITIES IN OTTOMAN TURKEY, 1915-1917
Compiled by James L. Barton
Available at Amazon

Reverend James L. Barton was the Foreign Secretary of the American Board of Commissioners for Foreign Missions. In 1917, as American missionaries left the Ottoman Empire for the United States, Barton wrote and asked them for signed statements about their observations. The book contains 22 eye-witness accounts of the destruction of Christian Communities in the Ottoman Turkey during that period.
Excerpts
In March 1914 while I was doing relief work in Thrace I saw many things which were evidence of the misrule of the Turks and their cruel treatment of their non-Moslem subjects. Much of this evidence was written to Boston during the spring and summer of 1914. The armies of the Turks which retook Adrianople and such portions of Thrace as they recaptured in 1913 devastated the non-Moslem regions and carried away much of their movable property and imprisoned many of the male members of these communities. [...]
During the same spring I saw the working of the official boycott against the Greeks in Thrace and along the lateral of the sea of Marmora. Not only were Moslems forbidden to buy from these Greeks, but they were encouraged to take their goods and then walk off without paying for it. Moslems were forbidden to sell anything to the Greeks. Many Greek merchants were financially ruined by this boycott.
- Arthur C. Ryan, p. 181.