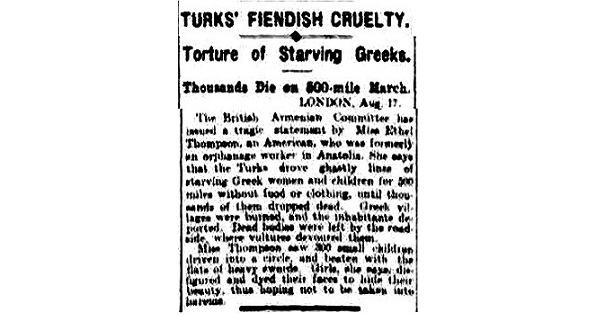 TURKS' FIENDISH CRUELTY
Torture of Starving Greeks
Thousands Die on 500-mile March

The Argus (Melbourne).
Aug 18, 1922.

London, Aug 17.
The British Armenian Committee has
issued a tragic statement by Miss Ethel
Thompson, an American, who was formerly
an orphanage worker in Anatolia. She says
that the Turks drove ghastly lines of
starving Greek women and children for 500
miles without food or clothing, until thou-
sands of them dropped dead. Greek vil-
lages were burned, and the inhabitants de-
ported. Dead bodies were left by the road-
side where vultures devoured them.
Miss Thompson saw 300 small children
driven into a circle, and beaten with the
flats of heavy swords. Girls, she says, dis-
figured and dyed their faces to hide their
beauty, thus hoping not to be taken into
harems.


---
Source: TURKS' FIENDISH CRUELTY. (1922, August 18). The Argus (Melbourne, Vic. : 1848 - 1957), p. 7. Retrieved March 3, 2018, from http://nla.gov.au/nla.news-article1839745