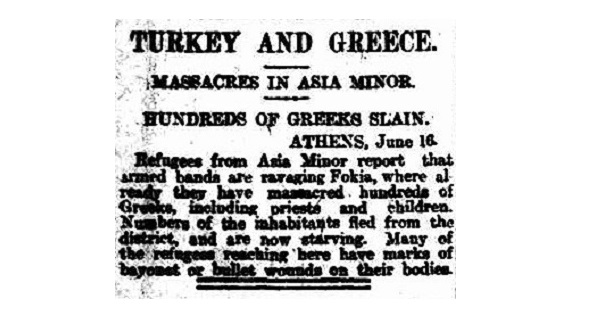 MASSACRES IN ASIA MINOR
HUNDREDS OF GREEKS SLAIN
The Advertiser.(South Australia)
Jun 18, 1914.

ATHENS, June 16.
Refugees from Asia Minor report that
armed bands are ravaging Fokia, where al-
ready they have massacred hundreds of
Greeks, including priests and children.
Numbers of the inhabitants fled from the
district, and are now starving. Many of
the refugees reaching here have marks of
bayonet or bullet wounds on their bodies.
---
TURKEY AND GREECE. (1914, June 18). The Advertiser (Adelaide, SA : 1889 - 1931), p. 16. Retrieved September 2, 2021, from http://nla.gov.au/nla.news-article6421352