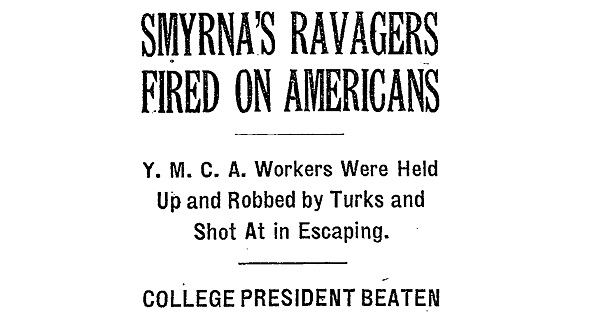 SMYRNA'S RAVAGERS FIRED ON AMERICANS
Y.M.C.A WORKERS WERE HELD UP AND ROBBED BY TURKS ANS SHOT AT IN ESCAPING.
COLLEGE PRESIDENT BEATEN.
The New York Times
Sep 18, 1922


[excerpt]
SMYRNA, Sept. 17 (Associated Press.)
-Smyrna, which the Turks have called
the Eye of Asia, is a vast sepulchre of
ashes; only the shattered walls of 25,000
homes and charred bodies of count-
less victims remain to tell the story of
death and destruction, unexampled in
modern history. The ruins are still
smouldering, like a volcano which has
spent its fury; no effort has been made
by the Turks to remove the dead and
dying; the streets are full of bodies
of those who sought to escape, for the
most part women and children.
Every building in the Armenian quar-
ter has been burned, with the dead lying
about; the bay, which covers an area
of fifty acres, still carries on its sur-
face the poor remnants of those who
were massacred or sought to escape the
ruthlessness of the foe.
On the waterfront crouch thousands
of survivors who fear death in another
form at the hands of the soldiery.
There are no boats to take them off.
[...]

Guards' Attention Diverted.
While the orphans were being loaded
on the Litchfield, H.C. Jaquith , Director
of Near East Relief, who came here re-
cently from Constantinople, diverted the
attention of the Turkish guards, giving
them cigarettes and talking to them in
their native tongue. These guards are
under strictest orders not to permit the
escape of any of the Greek or Armenian
refugees, and on several occasions have
shot to death fugitives endeavouring to
reach outlying vessels by swimming.
Out of 300,000 Christians crowding the
city prior to the descent of the Turks,
only 60,000 have been evacuated. Kem-
alist officials have informed the Amer-
ican relief workers that the return of
Christians to the interior meant certain
death.
[continued]
---