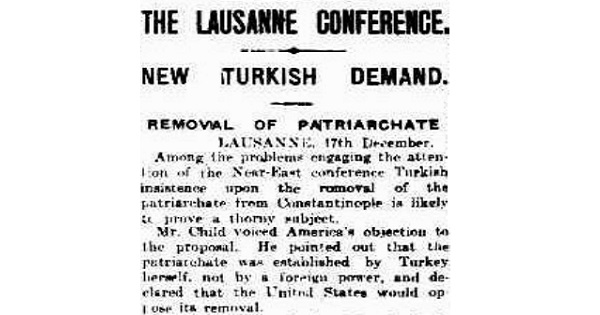 THE LAUSANNE CONFERENCE
NEW TURKISH DEMAND
REMOVAL OF PATRIARCHATE
The Age, Melbourne,
December 19, 1922.


LAUSANNE, 17th December.
Among the problems engaging the atten-
tion of the Near East conference Turkish
insistence upon the removal of the
patriarchate from Constantinople is likely
to prove a thorny subject.
Mr. Child voiced America's objection to
the proposal. He pointed out that the
patriarchate was established by Turkey
herself, not by a foreign power, and de-
clared that the United States would op-
pose its removal.
The Turks contend that it is absolutely
necessary to remove the patriarchate and
curtail the temporal privileges of the
clergy.
M. Caclamanos said that Greece could
not accept the proposal.


---
"THE LAUSANNE CONFERENCE." The Age (Melbourne, Vic. : 1854 - 1954) 19 December 1922: 9. Web. 20 Jul 2020