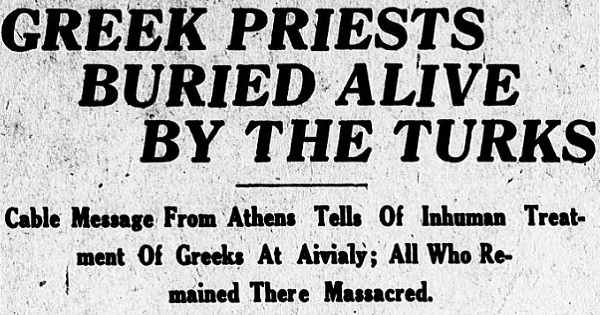 GREEK PRIESTS BURIED ALIVE BY THE TURKS
Cable Message From Athens Tells of Inhuman Treatment
of Greeks at Aivaly; All Who Remained There Massacred.
Grand Forks Herald N.D.
2 November 1922.

Washington, Nov. 2. - The Greek metropolitan and ten
priests, captured by the Turks at Aivaly, were buried alive be-
cause they refused to embrace Islamism, according to a cable-
gram received today from Athens by a Greek legation.
MASSACRED OTHERS
Word also has been received in Athens the message said,
that all Greeks who remained in Aivaly and on the islands of
Moschonissia have been massacred and that wells in the vicinity
"are filled with bodies of young girls," who drowned them-
selves to escape the Turks.
MANY DEPORTED
Christians in Smyrna between the ages of 18 and 60, the le-
gation was informed, have been deported and forced to hard la-
bor, hundreds dying from hunger and fatigue.


---
Grand Forks Herald. (Grand Forks, N.D.), 02 Nov. 1922. Chronicling America: Historic American Newspapers. Lib. of Congress.