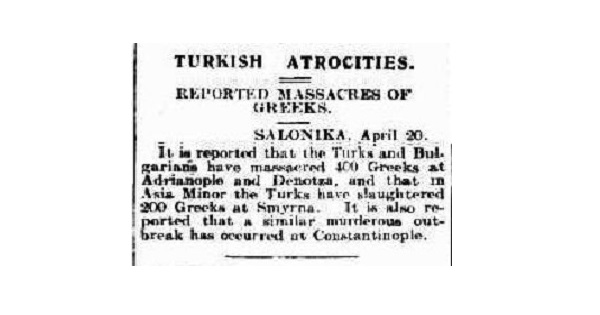 TURKISH ATROCITIES
REPORTED MASSACRES OF GREEKS

The Mercury. Hobart, Tasmania.
22 Apr 1916.

SALONIKA, April 20.
It is reported that the Turks and Bul-
garians have massacred 400 Greeks at
Adrianople and Denotza, and that in
Asia Minor the Turks have slaughtered
200 Greeks at Smyrna. It is also re-
ported that a similar murderous out-
break has occurred at Constantinople.
---
TURKISH ATROCITIES. (1916, April 22). The Mercury (Hobart, Tas. : 1860 - 1954), p. 7. Retrieved April 12, 2021, from http://nla.gov.au/nla.news-article1041085