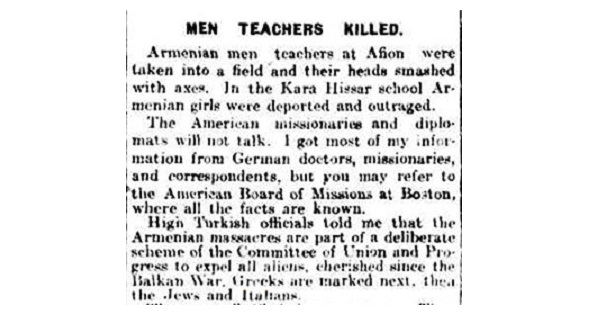 "...GREEKS ARE MARKED NEXT"
The Argus (Melbourne).
Oct 22, 1915.
(excerpt)
The New York World published the
following message from Mr John Reed, its
Constantinople correspondent.
[...]

High Turkish officials told me that the
Armenian massacres are part of a deliberate
scheme of the Committee of Union and Pro-
gress to expel all aliens, cherished since the
Balkan War. Greeks are marked next, then
the Jews and Italians.

---
THE WAR DAY BY DAY: TURKISH CRIMES IN ARMENIA (1915, October 22). The Argus (Melbourne, Vic. : 1848 - 1957), p. 5. Retrieved August 29, 2021, from http://nla.gov.au/nla.news-article1573584