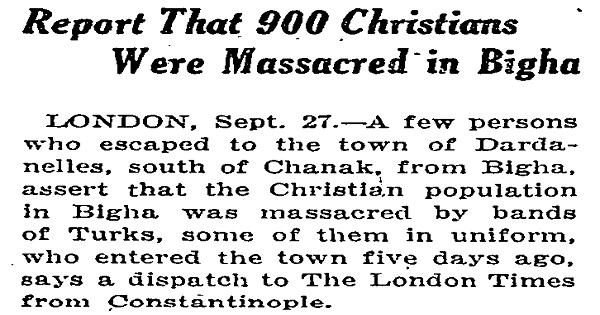 REPORT THAT 900 CHRISTIANS WERE MASSACRED IN BIGHA
The New York Times
Sep 27, 1922

LONDON, Sept. 27. - A few persons
who escaped to the town of Darda-
nelles, south of Chanak, from Bigha,
assert that the Christian population
in Bigha was massacred by bands
of Turks, some of them in uniform,
who entered the town five days ago,
says a dispatch to The London Times
from Constantinople.
They seized all the Greeks and Ar-
menians, numbering about 900, and
beheaded some and shot the remain-
der.
It is hoped that the stories are ex-
aggerated, the dispatch adds, but
news from Brusa and elsewhere in
Anatolia indicates that all the irreg-
ulars and many of Kemal's regulars
are out of hand.
---