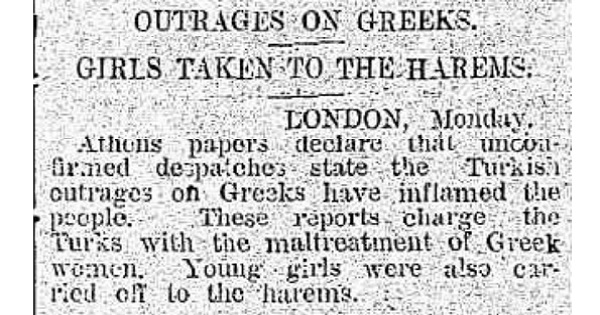 OUTRAGES ON GREEKS
GIRLS TAKEN TO THE HAREMS

Tweed Daily (New South Wales).
Aug 31, 1915.


LONDON, Monday.
Athens papers declare that uncon-
firmed despatches state the Turkish
outrages on Greeks have inflamed the
people. These reports charge the
Turks with the maltreatment of Greek
women. Young girls were also car-
ried off to the harems.
---
OUTRAGES ON GREEKS. (1915, August 31). Tweed Daily (Murwillumbah, NSW : 1914 - 1949), p. 3. Retrieved August 28, 2021, from http://nla.gov.au/nla.news-article191032773