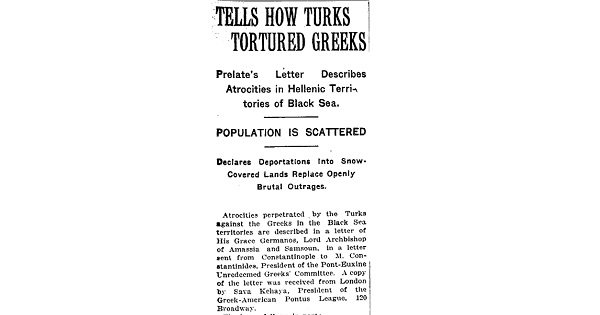 TELLS HOW TURKS TORTURED GREEKS
Prelate's Letter Describes Atrocities in Hellenic territory of Black Sea.
POPULATION IS SCATTERED
Declares Deportations into Snowy Covered Lands Replaces Openly Brutal Outrages.

The New York Times
July 5, 1919


Atrocities perpetrated by the Turks
against the Greeks in the Black Sea
territories are described in a letter of
His Grace Germanos, Lord Archbishop
of Amassia and Samsoun, in a letter
sent from Constantinople to M.Con-
stantinides, President of the Pont-Euxine
Unredeemed Greeks Committee. A copy
of the letter was received from London
by Sava Kehaya, President of the
Greek-American Pontus League, 120
Broadway.
The letter follows in part:
"Euxinus Pontus has undergone the
greatest calamities and disasters, not
only from the all-powerful Turkish
party of 'Union and Progress', but also
from all the Turkish people. The Turk-
ish people, after having hacked to death
a million Armenians, organised and are
still organising according to the same
methods, similar outrages. They were
led, but only according to their own in-
stincts, by the Government of Talaat,
Enver, Djemal, and their accomplices."
[continued..]


---