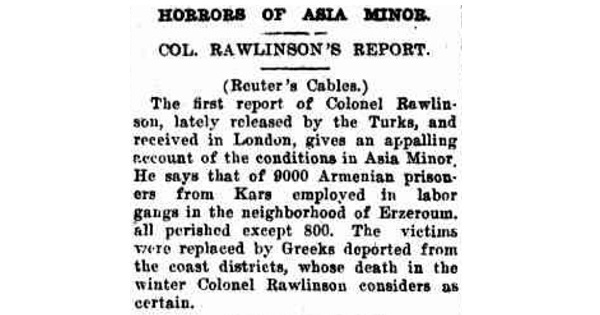 HORRORS OF ASIA MINOR
COL. RAWLINSON'S REPORT.
Singleton Argus, (NSW).
Nov 24, 1921.


(Reuter's Cables.)
The first report of Colonle Rawlin-
son, lately released by the Turks, and
received in London, gives an appalling
account of the conditions in Asia Minor.
He says that of 9000 Armenian prison-
ers from Kars employed in labour
gangs in the neighbourhood of Erzeroum,
all perished except 800. The victims
were replaced by Greeks deported from
the coast districts, whose death in the
winter Colonel Rawlinson considers as
certain.
---
HORRORS OF ASIA MINOR. (1921, November 24). Singleton Argus (NSW : 1880 - 1954), p. 2. Retrieved June 7, 2022, from http://nla.gov.au/nla.news-article80784984