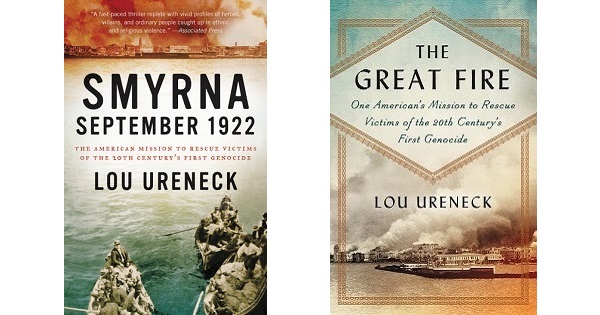 SMYRNA, SEPTEMBER 1922: THE AMERICAN MISSION TO RESCUE VICTIMS OF THE 20TH CENTURY'S FIRST GENOCIDE
LOU URENECK
Originally published under the title THE GREAT FIRE.
Available at Amazon(
(affiliate link)
In September 1922, the richest city of the Mediterranean was burned, and countless numbers of Christian refugees killed. The city was Smyrna, and the event was the final episode of the 20th Century's first genocide — the slaughter of three million Armenians, Greeks and Assyrians of the Ottoman Empire.
The Great Fire tells the harrowing and inspiring story of Asa Jennings and a strong-willed naval officer, Lt. Commander Halsey Powell, who together orchestrated one of the century's greatest humanitarian missions. Emboldened by his religious faith, Jennings worked tirelessly to feed and transport the thousands of desperate people while Powell, a war hero and Kentucky gentleman, skirted orders so that he could bring America's Navy to the rescue. By the time the horrible events in Turkey had ended, Jennings and Powell had helped rescue almost a million refugees.

Drawing extensively from survivors' stories, fresh primary sources, and years of research, Ureneck has painted an unforgettable portrait of the fire at Smyrna—the symbolic end of five hundred years of Ottoman rule and the final act in a ten-year religious slaughter. This gripping narrative reveals forces that would define the rest of the century: virulent nationalism, trading oil for national principles, and conflict and misunderstanding between the Christian West and Moslem East. This is an astonishing look at a pivotal, but little known, moment in our history viewed through the lens of the hopeful story of two men who faced a savage crisis with an unshakeable decency.
Click here to view and download the study guide.

Further Reading:
Smyrna 1922: The Destruction of a City
La Mort de Smyrne (The Death of Smyrna), René Puaux
16 Sep 1922: Turks Killed 120,000, East Oregonian
15 Sep 1922: Turks Kill Women and Babes, The Evening Star
18 Sep 1922: Smyrna Ablaze. Stories of Massacre