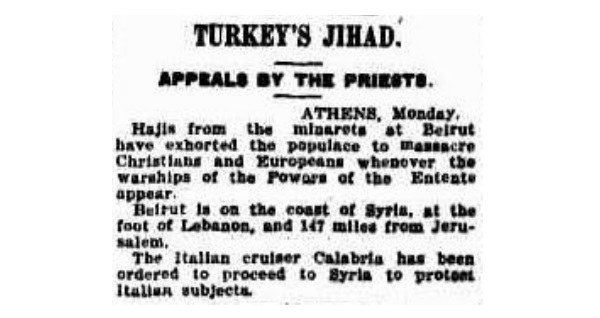 TURKEY'S JIHAD
APPEALS BY THE PRIESTS
Newcastle Morning Herald and Miners' Advocate
1 Dec 1914.


ATHENS, Monday.
Hajis from the minarets at Beirut
have exhorted the populace to massacre
Christians and Europeans whenever the
warships of the Powers of the Entente
appear.
Beirut is on the coast of Syria, at the
foot of Lebanon, and 147 miles from Jeru-
salem.
The Italian cruiser Calabria has been
ordered to proceed to Syria to protect
Italian subjects.
---
TURKEY'S JIHAD. (1914, December 1). Newcastle Morning Herald and Miners' Advocate (NSW : 1876 - 1954), p. 5. Retrieved November 16, 2020, from http://nla.gov.au/nla.news-article137430075