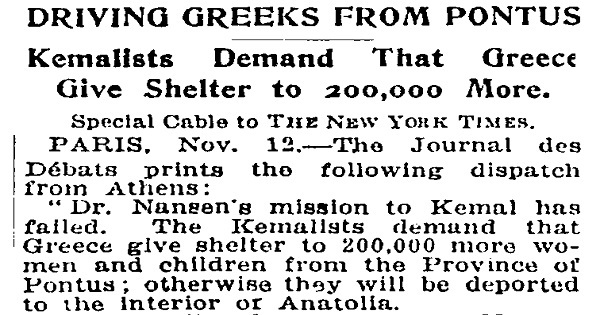 DRIVING GREEKS FROM PONTUS
KEMALISTS DEMAND THAT GREECE GIVE SHELTER TO 200,000 MORE.
The New York Times
Nov 13, 1922.

Special Cable to THE NEW YORK TIMES.
PARIS. Nov. 12. - The Journal des
Debats prints the following dispatch
from Athens:
"Dr. Nansen's mission to Kemal has
failed. The Kemalists demand that
Greece give shelter to 200,000 more wo-
men and children from the Province of
Pontus; otherwise they will be deporterd
to the interior of Anatolia.
"A Kemalist declared to Dr. Nansen
that if it was impossible for the Greeks
to give hospitality to these refugees,
and if Greece expelled Moslems from
Greek territory, the Turks would not
hesitate to massacre the Greeks remain-
ing in Turkey, including Constantinople.
An American relief representative was
informed of a threat to massacre 20,000
Armenian and Greek orphans in the
same province who have since been
transported to Greece."


---