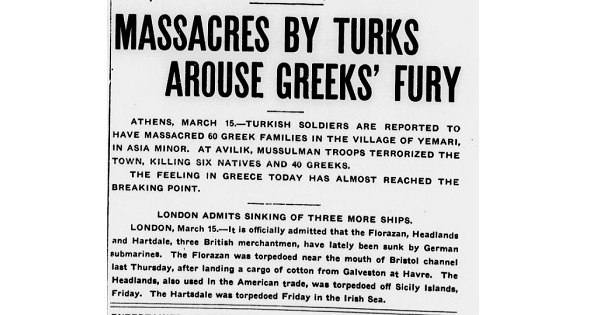 MASSACRES BY TURKS
AROUSE GREEKS' FURY
The Daytona Daily News (Florida),
15 March 1915.
ATHENS, MARCH 15 - TURKISH SOLDIERS ARE REPORTED TO
HAVE MASSACRED 60 GREEK FAMILIES IN THE VILLAGE OF YEMARI,
IN ASIA MINOR. AT AVILIK, MUSSULMAN TROOPS TERRORIZED THE
TOWN KILLING SIX NATIVES AND 40 GREEKS.
THE FEELING IN GREECE TODAY HAS ALMOST REACHED THE
BREAKING POINT.


---
The Daytona daily news. (Daytona, Fla.), 15 March 1915. Chronicling America: Historic American Newspapers.
Lib. of Congress.