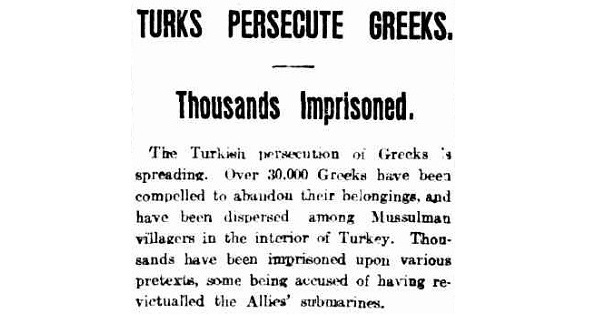 TURKS PERSECUTE GREEKS
Thousands Imprisoned
The Age (Melbourne).
Jul 16, 1915.
The Turkish persecution of Greeks is
spreading. Over 30,000 Greeks have been
compelled to abandon their belongings and
have been dispersed among Mussulman
villagers in the interior of Turkey. Thou-
sands have been imprisoned upon various
pretexts, some being accused of having re-
victualled the Allies' submarines.
---
ON GALLIPOLI. (1915, July 16). The Age (Melbourne, Vic. : 1854 - 1954), p. 7. Retrieved August 10, 2022, from http://nla.gov.au/nla.news-article154988955.

Further Reading:
U.S Embassy Document on the Deportation of Greeks from Gallipoli
12 Jul 1915: Turks are evicting native Christians, New York Times
The Ethnic Cleansing of Greeks from Gallipoli, April 1915