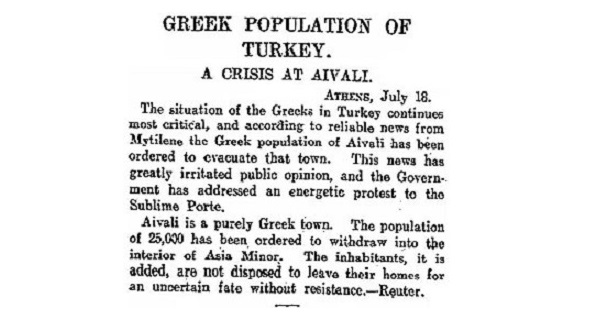 GREEK POPULATION OF TURKEY
A CRISIS AT AIVALI

The Scotsman,
July 20th, 1915


Athens, July 18.
The situation of the Greeks in Turkey continues
most critical, and according to reliable news from
Mytilene the Greek population of Aivali has been
ordered to evacuate that town. This news has
been greatly irritated public opinion, and the Govern-
ment has addressed an energetic protest to the
Sublime Porte.
Aivali is a purely Greek town. The population
of 25,000 has been ordered to withdraw into the
interior of Asia Minor. The inhabitants, it is
added, are not disposed to leave their homes for
an uncertain fate without resistance.--Reuter.