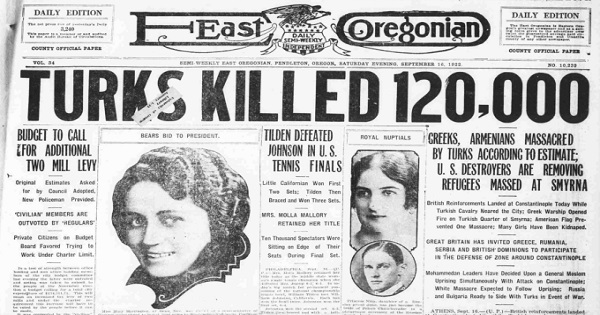 TURKS KILLED 120,000

East Oregonian,
Sep 16, 1922.

(excerpt)

GREEKS, ARMENIANS MASSACRED
BY TURKS ACCORDING TO ESTIMATE;
U.S. DESTROYERS ARE REMOVING
REFUGEES MASSED AT SMYRNA.

British Reinforcements Landed at Constantinople Today While
Turkish Cavalry Neared The City; Greek Warship Opened
Fire on Turkish Quarter of Smyrna; American Flag Pre-
vented One Massacre; Many Girls Have Been Kidnapped.

Great Britain Has Invited Greece, Rumania,
Serbia and British Dominions to Participate in
the Defense of Zone Around Constantinople.

Mohammedan Leaders Have Decided Upon a General Moslem
Uprising Simultaneously with Attack on Constantinople;
White Massacre Expected to Follow Uprising; Russia
and Bulgaria Ready to Side with Turks in Event of War.

...

Unconfirmed estimates from Armenian sources say that seventy thousand
Christians were massacred in Smyrna and fifty thousand elsewhere in the path
of the Turkish armies. Refugees along Smyrna Bay are estimated at half a
million.

Girls Kidnapped
Smyrna, Sept. 16, - (U.P) - Twen-
ty-five hundred dead bodies litter the
streets, while the harbor waters are
dotted with floating corpses as a re-
sult of the massacre and fire. Girls
from twelve to eighteen were kidnap-
ped. Aged men and women were shot
down as they fled from the fire. Six
thousand Greeks are reported burned
alive.


---
East Oregonian : E.O. (Pendleton, OR), 16 Sept. 1922. Chronicling America: Historic American Newspapers. Lib. of Congress. <http://chroniclingamerica.loc.gov/lccn/sn88086023/1922-09-16/ed-1/seq-1/>

Further Reading:
The Great Fire | Smyrna September 1922
La Mort de Smyrne (The Death of Smyrna), René Puaux
16 Sep 1922: Turks Killed 120,000, East Oregonian
15 Sep 1922: Turks Kill Women and Babes, The Evening Star
18 Sep 1922: Smyrna Ablaze. Stories of Massacre