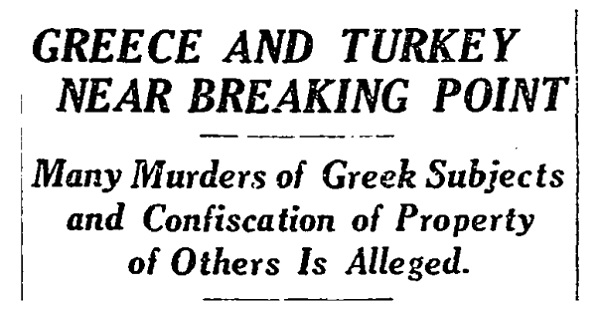 GREECE AND TURKEY NEAR BREAKING POINT
MANY MURDERS OF GREEK SUBJECTS AND CONFISCATION OF PROPERTY
OF OTHERS IS ALLEGED

The New York Times
Jan 10, 1915.

LONDON, JAN. 9 - The relations be-
tween Greece and Turkey have reached
a critical stage. The immediate cause
of the trouble is the alleged persecution
of Greeks in Asia Minor.
A long official dispatch from Athens,
received in London today, states that a
number of Greeks have been murdered
by Turkish bandits, and a sserts that
the Turkish authorities are making no
effort to arrest the bandits.
A private dispatch states that Chris-
tians are being persecuted by Turkish
authorities, who are making requisi-
tions on landowners, compelling them
to give up large portions of their pro-
perty. These requisitions, the dispatch
says, amount to confiscation, since no
money is paid in return and no receipts
are given.
"This state of affairs," says the dis-
patch, "coming, as it does, after the
expulsion of 120,000 Greeks from Asia
Minor last Autumn and the repeated
promises of the Porte to stop the
systematic extermination of Greeks,
renders the situation critical to the ut-
most degree.

---