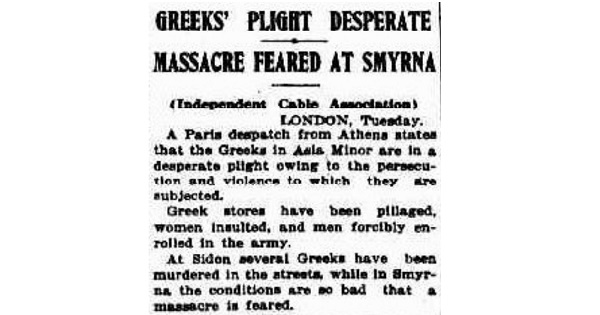 GREEKS' PLIGHT DESPERATE
MASSACRE FEARED AT SMYRNA
The Herald (Victoria, Aus).
Jan 13, 1915.

(Independent Cable Association)
LONDON, Tuesday.
A Paris despatch from Athens states
that the Greeks in Asia Minor are in a
desperate plight owing to the persecu-
tion and violence to which they are
subjected.
Greek stores have been pillaged,
women insulted, and men forcibly en
-rolled in the army.
At Sidon several Greeks have been
murdered in the streets, while in Smyr-
na the conditions are so had that a
massacre is feared.
---
GREEKS' PLIGHT DESPERATE (1915, January 13). The Herald (Melbourne, Vic. : 1861 - 1954), p. 5. Retrieved August 22, 2022, from http://nla.gov.au/nla.news-article242272454