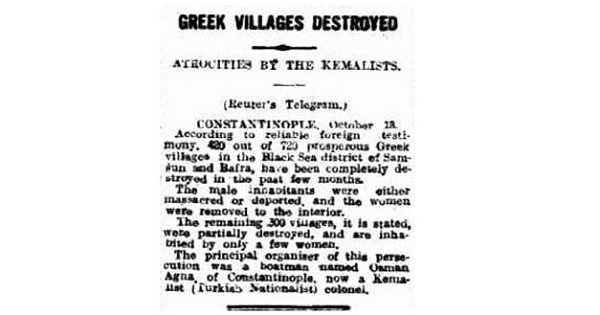 GREEK VILLAGES DESTROYED
ATROCITIES BY THE KEMALISTS

Daily Herald (Adelaide, SA)
Friday 21 October 1921, p5.


(Reuter's Telegram)
CONSTANTINOPLE, October 18.
According to reliable foreign testi-
mony, 420 out of 720 prosperous Greek
villages in the Black Sea district of Sam-
sun and Bafra, have been completely de-
stroyed in the past few months.
The male inhabitants were either
massacred or deported, and the women
were removed to the interior.
The remaining 300 villages, it is stated,
were partially destroyed, and are inha-
bited by only a few women.
The principal organiser of this perse-
cution was a boatman named Osman Agha
Osman Agha, of Constantinople, now a Kema-
list (Turkish Nationalist) colonel.


---
Daily Herald (Adelaide, SA : 1910 - 1924) 21 October 1921: 5. Web. 3 Mar 2018 <http://nla.gov.au/nla.news-page10588296>