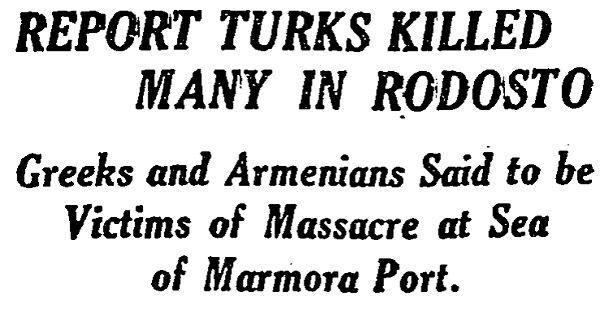 REPORT TURKS KILLED MANY IN RODOSTO
Greeks and Armenians Said to be Victims of Massacre at Sea of Marmora Port.

New York Times,
March 4, 1920.

PARIS, Mar. 3. - The Greek Legation
made public a telegram today, charging
the slaughter of a large number of
Greeks and Armenians by the Turks in
Rodosto, sixty miles northeast of Gal-
lipoli on the Sea of Marmora.
The telegram adds that the French
Governor of Dedeaghatch has left for
Enos, the headquarters of the followers
of Mustapha Kemal Pasha, Turkish
Nationalist leader, who are said to be
terrorizing inhabitants of that region.
---