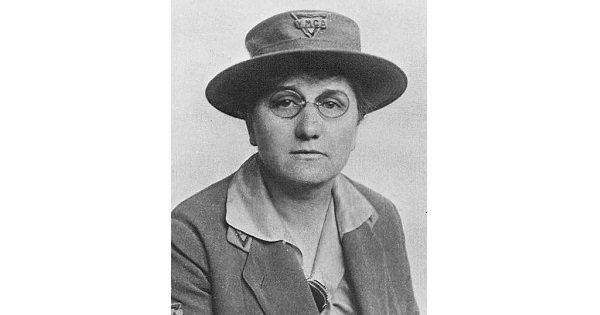 Dr. Olga Stastny in YMCA uniform. 1920 Source
Dr. Olga Stastny (1878-1952) was an American physician who provided medical care to survivors of the Greek Genocide. She was born in Wilber, Nebraska and graduated from the University of Nebraska College of Medicine at the age of 35 before opening her own medical practice in 1914. In 1917 Stastny joined the American Women's Hospitals (AWH), a US-based relief agency and in 1919 was sent to France and Prague to assist with post-WW1 medical work. She also served for the YWCA and YMCA.
In November 1922, Stastny was asked to assist with medical work in Greece following the mass exodus of Christians who were fleeing Turkey as a result of the Smyrna Holocaust. Upon arival in Greece, she assisted in Athens and Loutraki but in early 1923, was appointed director of the AWH qurantaine station on the island of Macronissi, Greece.
By late 1922, communicable diseases had developed in parts of Greece as a result of the sudden arrival of fleeing Christians from Turkey. Around that time, ships began arriving from Black Sea ports and with most on board carrying disease such as typhus and smallpox, the Greek government decided to halt arrivals due to a lack of quarantine facilities. The Greek government then requested the AWH to establish a quarantine facility on the island of Macronissi which was situated about 10 km off the south coast of Greece.
Macronissi was a barren and uninhabited rocky island about 10 miles long and 2 miles wide. The only facilities it had were a bath house and delousing plant which were in operation during WW1. Tents, bedding, fuel, fresh water and food were shipped to the island and the delousing plant was put into operation.
Dr Stastny lived on the island from January to June 1923 when the quarantine station was closed. The majority of those who arrived on Macronissi were women, children and the elderly, the men having been detained in Turkey during the genocide. Each person was inspected by a physician. The sick were given priority while those with contagious diseases were sent to the isolation hospitals.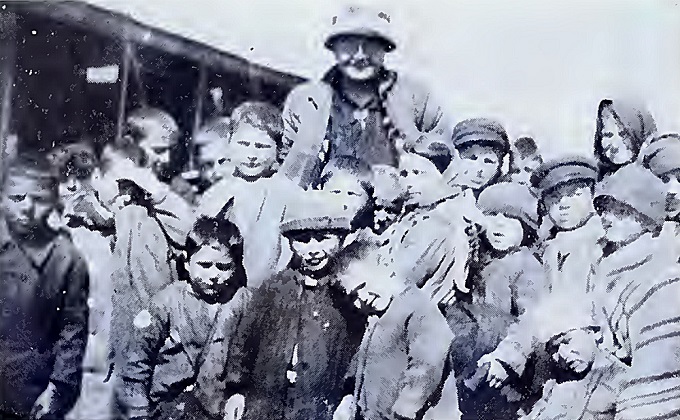 Dr. Olga Stastny with a group of children who had been deloused, washed and provided with clean clothing.
The task of caring for the arrivals carried enormous risks. A number of the medical personell on the island fell ill and some died as a result of exposure to typhus. In addition, the people who were arriving had been persecuted during the genocide and were now being expelled from their homeland. They had lost everything and were in a state of desperation. Some had thrown their children overboard en route while many had just gone insane. If anything occurred on the island, for instance if water ran out, they would likely turn on the American women for keeping them there.
The director of the AWH Dr. Esther Pohl Lovejoy warned Stastny of the dangers of her position. Stastny replied: "My children are grown and married. I have no duties which should take precedence of my duties here." Lovejoy would later describe Stastny as the "heroine of that hour" for her work on Macronissi.
Dr. Olga Stastny remained on Macronissi island for five months leaving her post only twice for a few hours during that time. In total, 12,295 refugees were received on the island and kept from 1-4 months. They were all vaccinated, fed, clothed and finally sent to mainland Greece. The AWH was awarded with three medals for its work in caring for Greek Genocide survivors: the Royal Order of George, the Order of the Redeemer and the War Cross of Greece.


---
Lovejoy, E. Certain Samaritans. Macmillan Co. 1933.
Lovejoy E. Women Physicians and Surgeons. The Livingston Press, 1939.
Stepanka Andrews-Koryta, "Dr Olga Stastny, Her Service to Nebraska and the World," Nebraska History 68 (1987): 20-27.