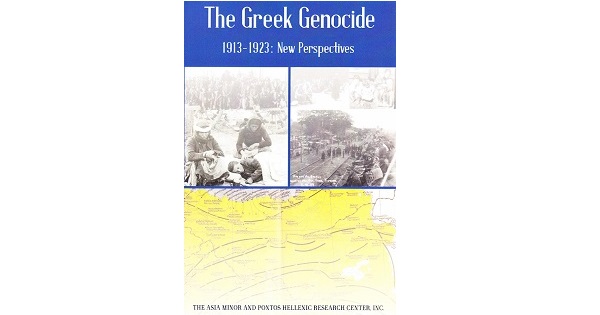 THE GREEK GENOCIDE 1913-1923: NEW PERSPECTIVES
The Asia Minor and Pontos Hellenic Research Center, 2019.
Edited by George Shirnian.
297 pages.
Available at Amazon
Note: By purchasing any Amazon product using the above link, GGRC earns a small commission which goes towards donating Greek Genocide reading material to teaching institutions. Click here to read more about how you can support this endeavor.


The deportation, mass killing, and ultimate expulsion of citizens of the Ottoman Empire of Greek ethnicity during the waning years of that empire and its transition to the Turkish Republic are well documented, but perhaps not widely known. The numerous archival sources and secondary works cited in these carefully researched studies are a rich source of evidence and testimony, many not available in the English language. This collected research by a group of scholars, young and old, of different countries and different ethnicities, strives to delve more profoundly into this history, to explore new aspects of it, to broaden our knowledge of what happened, and to deepen our understanding of its significance. As the title states, this book seeks to provide new perspectives on the Genocide of the Greeks in the Ottoman Empire.

This book is the most recent effort in a series of activities by the Asia Minor and Pontos Hellenic Research Center, Inc. (AMPHRC), a nonprofit organization whose mission is to research and document the history of the Greeks in Asia Minor, Pontos, Eastern Thrace, and their Diaspora. The book's title, The Greek Genocide, 1913-1923: New Perspectives, describes its aim and its contents. As the AMPHRC has already published several books of original research related to the Greek Genocide, the intention was that this new publication should say something new.

TABLE OF CONTENTS
- Mapping Out the Turkish Documents on the Unweaving of Greeks from the Black Sea (The Pontic Genocide, 1919–1923): Serdar Korucu and Emre Can Daglioglu
- The Roman Catholic Accounts Testifying to the Pontic Greek Genocide: Theodosios Kyriakidis
- The Legal Structure for the Expropriation and Absorption of Armenian and Greek Wealth in the Ottoman Empire and Turkey: Ümit Kurt
- The Deportation of Greek Prisoners of War and Interned Civilians, 1922–29: An Untold Story: Stavros Stavridis
- British Perspectives on Turkish Atrocities in the Former Ottoman Empire, 1919–1922: The Great Catastrophe: Elisabeth Hope Murray and Amy Grubb
- American Emergency Relief to Greece, 1918–1923: An Overview: Nikolaos Ath. Misolidis
- Denying the Possibility of Annihilation during Genocide: A Case Study of the Armenians and Greeks, 1915–1922: Tehmine Martoyan
- Mass Suicide during the Greek Genocide in the Ottoman Empire, 1913–1923: Hasmik Grigoryan