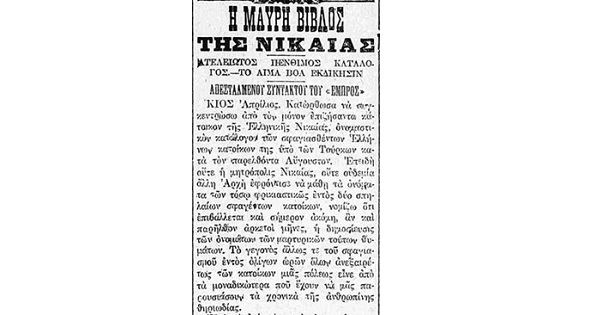 THE BLACK BOOK OF NICAEA
UNENDING CATALOGUE OF MOURNING - BLOOD CALLS FOR REVENGE

Embros (Greece).
April 17, 1921.

(translated and transcribed)


FROM EMBROS'S POSTED CORRESPONDENT
KIOS [GEMLIK], April. I managed to
compile, from the only living survivor
of the Greek town of Nicaea [İznik],
a list of Greeks who were massacred
by the Turks last August. Since neither
the Diocese of Nicaea, nor any other
official body bothered to compile the
names of the victims of such a shocking
crime, I think it's relevant even today,
some months later, to publish the names
of these martyred victims. The facts of
the massacre which occurred within a
few hours, without exception of any
citizens of the town, is the only thing
that can be presented in the chronicle
of such an atrocity.
Here are the names by family:

Family Nikolaos Anastasiadis; 7 people
Savvas Anastasiadis; 2
Savvas Psomas; 6
Efthimios Psomas; 6
Pavlos Raptis; 13
Phillip Raptis 6
Efstathios Simeonidis; 6
Evsimani Simeonidis; 3
Gregory Vasiliou; 8
Sultana Vasiliou; 5
George Simeonidis; 3
Jordan Simeonidis; 4
Stylianos Hatzivasilliou; 5
Kyriakos Theodorakis; 7
Elenko Keyvelis; 2
Savvas Keyvelis; 5
Michail Papageorgiou; 6
Panagis Papageorgiou; 7
Jordan Papajordan; 8
Demetrios Papageorgiou; 10
Iovakos Favianou; 14
Lazaros Ladas; 5
Ioannis Ambatzis; 6
Emilios Kesisoglou; 4
Sofronios Hatzistavridis; 7
Theofanis Anagnostidis; 3
Demitrios Seferidis; 3
Anastasia Tsakiriadis; 2
Ioannis Tarafopoulos; 4
Konstantinos Kakoulopoulos; 2
Michail Talamopoulos; 9
Matthew Tournazidis; 4
Michail Papazoglou; 4
George Algianos; 5
Konstantinos Papoutzou; 3
Sultana Gaggime; 3
Vasiliki Kontoglou; 2
Angelos Hasapidis; 2
Efthimios Hatzipavlidis; 6
Maria Karayaka; 4
Vasilios Kavoukidis; 4
Christos Sivrisoglou; 5
Hariklia Kalaintzis; 3
Kyriakos Vola; 6
Michail Samaras; 6
Dimitrios Karaoglou; 3
Elizabeth Vasiliou; 5
Stylianos Koutsopoulos; 4
Dimitrios Sideras; 5
George Naftis; 4
Anthi Hatzis; 4
Ioannis Katemlis; 5
George Katmli; 7
Michail Papazoglou; 4
Panagiotis Mavridis; 6
Nikolaos Koulouras; 5
Achilleas Tzamtzis; 6
Jordan Paschalidis; 4
Chrysafos Potopoulou; 4
George Stavridis; 6
Evdoxia Devrisidou; 5
Stylianos Litourgou; 6
Konstantinos Armoutzis; 3
Panagis Hatzopoulou; 5
Stylianos Hatzopoulos; 6
Apostolos Tapia; 3
Eleni Rokka; 3
Haralambos Yannakou; 10
Aristidis Vafiadis; 5
Jordan Yannakou; 5
Ioannis Karaka; 5
George Sarris; 6
Vasiliki Dimitriadis; 5
Angeliki Saratzikli; 7
Simeon Nikolaidis; 6
Maria Psoma; 3
Sevastos Evstathiadis; 5
Panayiotis Gianopoulos; 6
Theofanis Paritsis; 3
Alexandros Koukoulas; 2
Alexios Papadopoulos; 5
Harilaos Prodromitis; 3
Ekaterina Pasia; 3
Vasilios Hasapidis; 6
Petros Kyriakou; 3
Hariton Alexandrou; 6

There were more names of slaughtered Greeks which we have not included in this list.

K. FALTAITS.
---
Note: Faltaits interviewed a number of survivors from the massacres perpetrated by the Kemalists in the Bithynia region of Asia Minor from 1920-1921. Upon his return to Greece in late 1921, he published the testimonies in book form. In 2016, his book was translated to English and published under the title The Genocide of the Greeks in Turkey: Survivor Testimonies from the Nicomedia (Izmit) Massacres of 1920-1921.


Further reading:
The İznik (Nicaea) Massacre, August 1920
These are the Turks
Ortakoy, Bithynia: The Massacres and the Uprooting
The Massacre of Greeks at Konzes, Feb 1921.