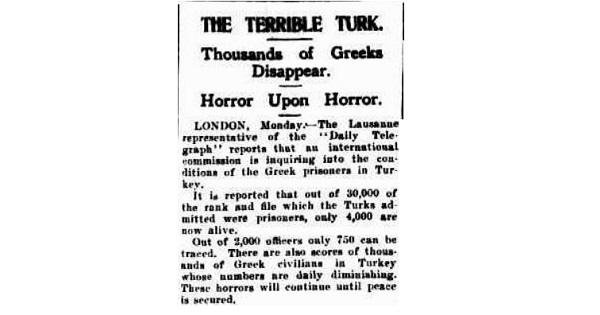 THE TERRIBLE TURK
Thousands of Greeks Disappear.
Horror Upon Horror.

Advocate (Burnie, Tas),
July 17, 1923. p. 1.


LONDON, Monday - The Lausanne
representative of the "Daily Tele-
graph" reports that an international
commission is inquiring into the con-
ditions of the Greek prisoners in Tur-
key.
It is reported that out of 30,000 of
the rank and file which the Turks ad-
mitted were prisoners, only 4,000 are
now alive.
Out of 2,000 officers only 750 can be
traced. There are also scores of thous-
ands of Greek civilians in Turkey
whose numbers are daily diminishing.
These horrors will continue until peace
is secured.
---
"THE TERRIBLE TURK." Advocate (Burnie, Tas. : 1890 - 1954) 17 July 1923: 1. Web. 21 Jul 2021

Further Reading:
The Treatment of Greek Prisoners in Turkey: Report of the International Commission of Inquiry...
A. Pissanos, Prisoners of Kemal