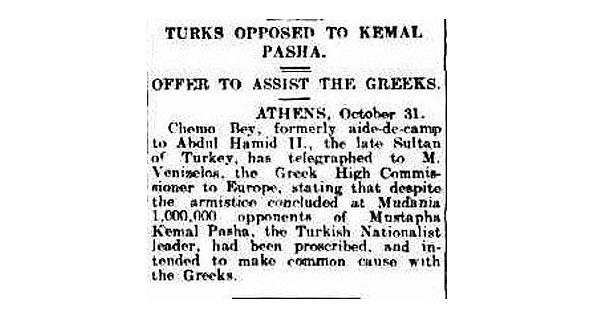 TURKS OPPOSED TO KEMAL PASHA
OFFER TO ASSIST THE GREEKS

The Mercury (Hobart, Australia),
2 Nov 1922.


ATHENS, October 31.
Chemo Bey, formerly aide-de-camp
to Abdul Hamid II, the late Sultan
of Turkey, has telegraphed to M.
Venizelos, the Greek High Commis-
sioner to Europe, stating that despite
the armistice concluded at Mudania
1,000,000 opponents of Mustapha Kemal Pasha
Mustapha Kemal Pasha, the Turkish Nationalist
leader, had been proscribed, and in-
tended to make common cause with
the Greeks.


---
TURKS OPPOSED TO KEMAL PASHA. (1922, November 2). The Mercury (Hobart, Tas. : 1860 - 1954), p. 7. Retrieved March 3, 2018, from http://nla.gov.au/nla.news-article23627681