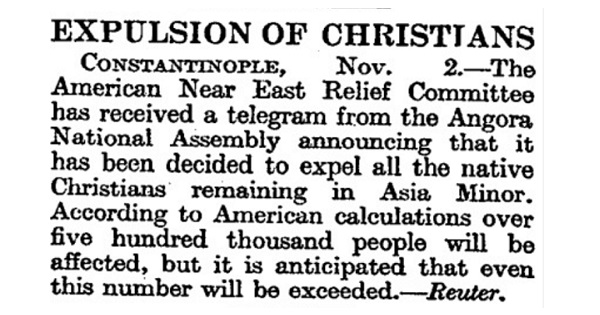 EXPULSION OF CHRISTIANS
The Times
November 3, 1922.


CONSTANTINOPLE, Nov. 2. - The
American Near East Relief Committee
has received a telegram from the Angora
National Assembly announcing that it
has been decided to expel all the native
Christians remaining in Asi a Minor.
According to American calculations over
five hundred thousand people will be
affected, but it is anticipated that even
this number will be exceeded. - Reuter.


---
(FROM OUR OWN CORRESPONDENT.). "Near East Policy." Times, 3 Nov. 1922, p. 13. The Times Digital Archive, link-gale-com.rp.nla.gov.au/apps/doc/CS218960739/TTDA?u=nla&sid=bookmark-TTDA&xid=8ac6429b. Accessed 8 June 2022.